Cygames, P.A. Works Reveal Akiba Maid War Original TV Anime
Published 3 months ago.
hadezuka
Cygames and P.A. Works revealed on Friday that they are producing a new original television anime series titled Akiba Meido Sensō (Akiba Underworld War). The companies also revealed a visual, video, staff, and cast for the show. The anime's English title is Akiba Maid War.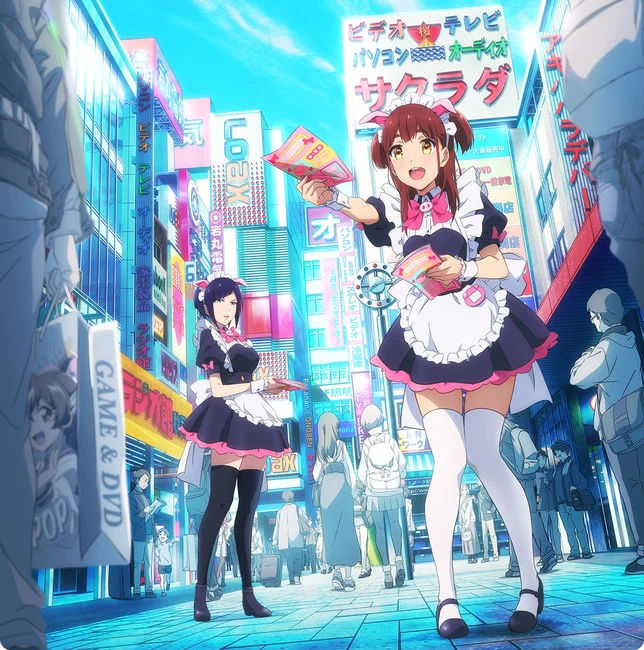 The anime will star Reina Kondo as Nagomi Kazuhira, a woman who moves to Tokyo and dreams of becoming a cute maid in Akihabara. Also starring in the series is Rina Satou as Ranko Kazutoshi, a former maid who has been away from Akihabara for a long time. Character name romanizations are not confirmed.
"Kedamono Land Management Strategy Room" is credited with the original work for the anime. Sōichi Masui (Chaika the Coffin Princess, Sakura Quest, Rascal Does Not Dream of Bunny Girl Senpai) is directing the anime at P.A. Works. Yoshihiro Hiki is overseeing the series scripts, Manabu Nii (The Day I Became a God, Kakegurui twin, Hina Logic – from Luck & Logic) is the character designer and chief animation director, and Yoshihiro Ike (Tiger & Bunny, Ergo Proxy, 2019 Dororo) is composing the music at Cygames.
Other staff members include:
Art Director: Kōhei Tanaka
Art Design: Risa Iraha
Color Design: Naomi Nakano
Prop Setting: Kenji Irie, Kayoko Nabeta
Director of Photography: Rumi Ishiguro
3D Director: Kōhei Ogawa
Special Effects: Masahiro Murakami
Editing: Ayumu Takahashi
Sound Director: Satoki Iida
Sound Effects: Katsuhiro Nakano
Sound Production: dugout
The staff did not reveal a story summary for the anime.
Sources: Akiba Maid War anime's website, Comic Natalie