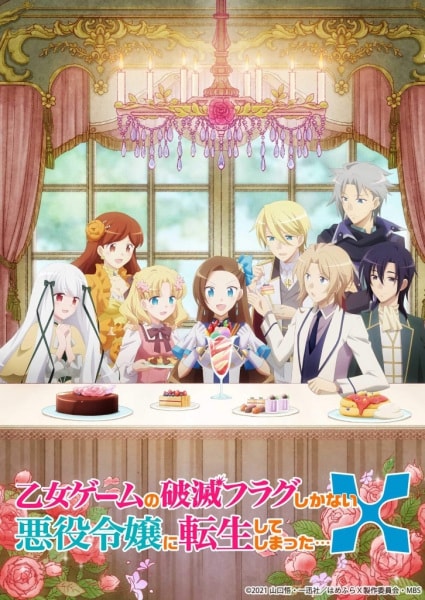 Otome Game no Hametsu Flag shika Nai Akuyaku Reijou ni Tensei shiteshimatta… X
PG-13 - Teens 13 or older

23 min per ep
Overview:
With no more death flags in sight, personable but dense Catarina Claes is finally able to lead a peaceful life surrounded by all of her friends and family. For that reason, she is determined to enjoy the school festival to the fullest without any concern on her mind. Unbeknownst to her, however, the story of "Fortune Lover"—the game she used to play—has yet to end. Even more characters make an appearance, each with their own agenda to fulfill, and new mysteries await Katarina and those she loves. Will there be any way to avoid a bad ending when Catarina cannot remember what happens next? [Written by MAL Rewrite]
Score:

7.25

Native:

乙女ゲームの破滅フラグしかない悪役令嬢に転生してしまった…X

Synonyms:

Hamefura X, I Reincarnated into an Otome Game as a Villainess With Only Destruction Flags…, Destruction Flag Otome

Rate:

PG-13 - Teens 13 or older

Premiered:

summer 2021

Aired:

Jul 3, 2021 to Sep 18, 2021

Duration:

23 min per ep

Episodes:

12

Studio:

SILVER LINK.
Characters and Voice Actors
Matsuoka, Yoshitsugu
Japanese
Kakihara, Tetsuya
Japanese
Suzuki, Tatsuhisa
Japanese
Campbell, Mother
Supporting
Claes, Milldiana
Supporting
Hiramatsu, Akiko
Japanese
Coleman, Thomas
Supporting
Lanchester, Cyrus
Supporting
Yamashita, Daiki
Japanese
Randall, Suzanna
Supporting
Sasaki, Atsuko
Supporting
Toriumi, Kousuke
Japanese
Stuart, Jeffery
Supporting
Koyasu, Takehito
Japanese
Tucker, Ginger
Supporting
Show All