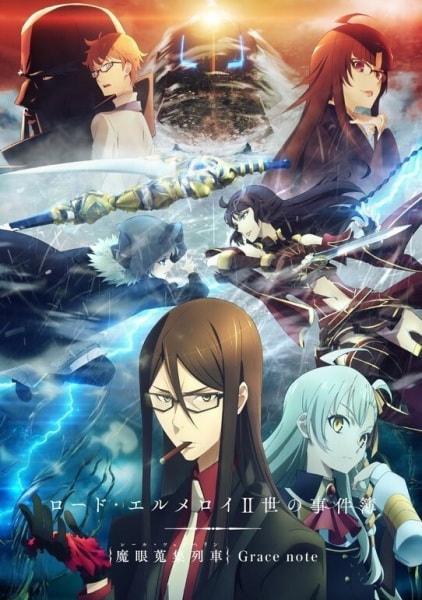 Lord El-Melloi II Sei no Jikenbo: Rail Zeppelin Grace Note
R - 17+ (violence & profanity)

23 min per ep
Overview:
Ten years after facing defeat in the Fourth Holy Grail War, Waver Velvet, now Lord El Melloi II, teaches classes at the Clock Tower—the center of education for mages. However, his new status as "Lord" comes with a caveat: obey the orders of Reines, the younger sister of the deceased Kayneth El Melloi, until she is old enough to rule the House of El Melloi. Waver, along with his mysterious apprentice Gray, takes on a series of cases assigned by Reines and the Mages Association. With each case proving to be more complex than the last, could there be more to the Clock Tower than meets the eye, and what secrets does Reines hide? [Written by MAL Rewrite]
Score:

7.37

Native:

ロード・エルメロイⅡ世の事件簿 -魔眼蒐集列車 Grace note-

Synonyms:

-

Rate:

R - 17+ (violence & profanity)

Premiered:

summer 2019

Aired:

Jul 7, 2019 to Sep 29, 2019

Duration:

23 min per ep

Episodes:

13

Licensor:

Aniplex of America

Studio:

TROYCA

Genres:

Fantasy Mystery Supernatural
Characters and Voice Actors
El-Melloi Archisorte, Reines
Main
Namikawa, Daisuke
Japanese
Adashino, Hishiri
Supporting
Arsimilat Animusphere, Olga-Marie
Supporting
Yonezawa, Madoka
Japanese
Yanagita, Junichi
Japanese
Belfeban, Rocco
Supporting
Houki, Katsuhisa
Japanese
Codrington, Waletta
Supporting
Davenant, Gurdoa
Supporting
Deputy Manager
Supporting
Doctor Heartless
Supporting
Edelfelt, Luviagelita
Supporting
Escardos, Flatt
Supporting
Matsuoka, Yoshitsugu
Japanese
Fargo, Mary Lil
Supporting
Kanemoto, Hisako
Japanese
Yamamoto, Shouta
Japanese
Fellows, Trisha
Supporting
Forvedge Yggdmillennia, Caules
Supporting
Kobayashi, Yuusuke
Japanese
Frampton, Karabo
Supporting
Glascheit, Svin
Supporting
Yamashita, Seiichirou
Japanese
Lehrman, Yvette L.
Supporting
Nuada-Re Sophia-Ri, Bram
Supporting
Nojima, Hirofumi
Japanese
Pelham Codrington, Wills
Supporting
Shishigou, Kairi
Supporting
Supinerra, Jean-Mario
Supporting
Yamamoto, Kanehira
Japanese
Hirakawa, Daisuke
Japanese
Show All