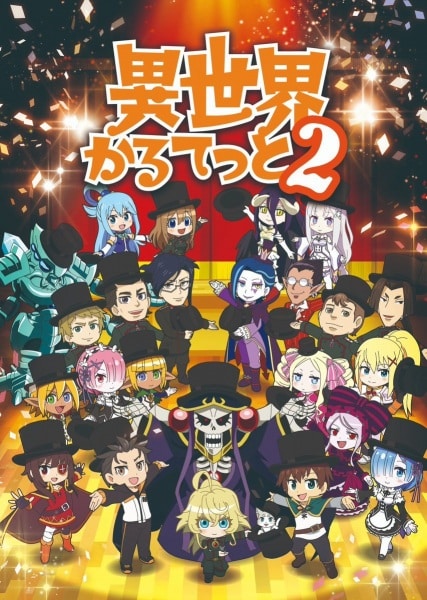 Isekai Quartet 2
PG-13 - Teens 13 or older

11 min per ep
Overview:
Despite completing all the tasks given to them, Ainz Ooal Gown, Tanya Degurechaff, Kazuma Satou, Subaru Natsuki, and the other members of Class 2 are surprised to find out that their role as students is far from over. With no means of returning home, the class of eccentric personalities is still mysteriously stuck in the unfamiliar world. Although, as they are becoming quite fond of each other, spending more time together does not sound that bad. With the unexpected arrival of new transfer students, the comedic antics of our beloved characters continue to grow. Thus, their bizarre yet nonchalant school life continues. [Written by MAL Rewrite]
Characters and Voice Actors
Kobayashi, Yuusuke
Japanese
Serebryakova, Viktoriya Ivanovna
Main
Igarashi, Hiromi
Japanese
Beta, Lupusregina
Supporting
Bloodfallen, Shalltear
Supporting
Dustiness Ford, Lalatina
Supporting
Epsilon, Solution
Supporting
Euclius, Julius
Supporting
Akasaki, Chinatsu
Japanese
Fiora, Aura Bella
Supporting
Fiore, Mare Bello
Supporting
Gamma, Narberal
Supporting
Numakura, Manami
Japanese
Grantz, Warren
Supporting
Kobayashi, Yuusuke
Japanese
Iwatani, Naofumi
Supporting
Koenig, Wilibald
Supporting
Mathers, Roswaal L.
Supporting
Koyasu, Takehito
Japanese
Neumann, Rhiner
Supporting
Pandora's Actor
Supporting
Romanu00e9e-Conti, Petelgeuse
Supporting
Matsuoka, Yoshitsugu
Japanese
Ryuuguuin, Seiya
Supporting
Umehara, Yuuichirou
Japanese
van Astrea, Reinhard
Supporting
Nakamura, Yuuichi
Japanese
van Astrea, Wilhelm
Supporting
Horiuchi, Kenyuu
Japanese
Nishida, Masakazu
Japanese
von Lergen, Erich
Supporting
Miki, Shinichiro
Japanese
von Rudersdorf, Kurt
Supporting
von Zettour, Hans
Supporting
Ootsuka, Houchuu
Japanese
Weiss, Matheus Johann
Supporting
Zeta, Entoma Vasilissa
Supporting
Show All