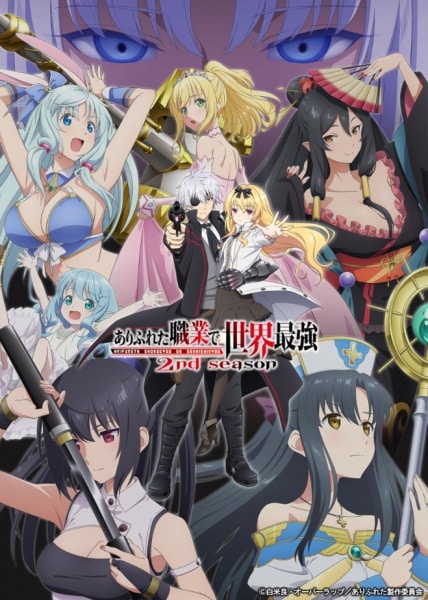 Arifureta Shokugyou de Sekai Saikyou 2nd Season
PG-13 - Teens 13 or older

23 min per ep
Overview:
Transported to another world and left behind by his former friends, Hajime had to make his rise from literal rock bottom. It was in the labyrinth where he strengthened his weak magic and found several beautiful allies. Now after saving his classmates, he ventures for Erisen to escort Myuu and her mother. He'll fight and defeat anyone he has to in order to find a way home—including a god! (Source: Funimation)
Score:

7.22

Native:

ありふれた職業で世界最強 2nd Season

Synonyms:

From Common Job Class to the Strongest in the World 2nd Season

Rate:

PG-13 - Teens 13 or older

Premiered:

winter 2022

Aired:

Jan 13, 2022 to Mar 31, 2022

Duration:

23 min per ep

Episodes:

12

Licensor:

Funimation

Studios:

asread., studio MOTHER
Characters and Voice Actors
Takahashi, Minami
Japanese
Fukamachi, Toshinari
Japanese
Amanogawa, Kouki
Supporting
Kakihara, Tetsuya
Japanese
Canales, Henrique
Portuguese (BR)
Endou, Kousuke
Supporting
Hatayama, Aiko
Supporting
Heilig, Liliana S. B.
Supporting
Shibasaki, Noriko
Japanese
Hiyama, Daisuke
Supporting
Taniguchi, Suzu
Supporting
Yaegashi, Shizuku
Supporting
Hanamori, Yumiri
Japanese
Show All